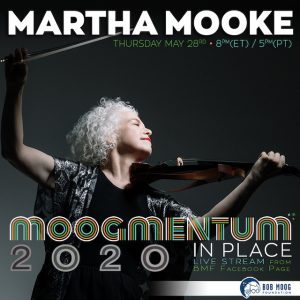 Asheville, NC – May 25, 2020...The Bob Moog Foundation is excited to announce that electric violist Martha Mooke will perform live from the Foundation's Facebook page on Thursday, May 28th, at 8pm (ET)/5pm (PT). She will be performing with her unique setup of effects pedals and looping devices. The performance is part of Moogmentum In Place, a series of live streaming events created to celebrate Moog's birthday and the anniversary of the Moogseum, both of which take place in the month of May.
Martha Mooke, acclaimed for her electrifying performances and compositions, is a pioneering electric violist/composer, highly regarded for her artistry, music advocacy, and innovative educational programs. A longtime Yamaha Artist, and Eventide's first Artist-in-Residence, Mooke is a leading clinician on electric and multi-style string playing. She has performed with Barbra Streisand, David Bowie, Philip Glass, Elton John, Andrea Bocelli, Lou Reed, Laurie Anderson, and Tony Bennett, among others.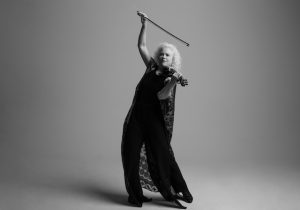 Founder and Artistic Director of the Scorchio Quartet (featured on David Bowie's album, Heathen), Mooke received the prestigious ASCAP Concert Music Award for creating and producing the new music showcase THRU THE WALLS featuring boundary-defying composer/performers. Mooke is developing a new Multi-Style Strings program scheduled to launch at New Jersey City University in Fall 2020.
"We are delighted that Martha will be bringing her unique instrument and talents to Moogmentum In Place," commented Michelle Moog-Koussa, Executive Director of the Bob Moog Foundation. "Her explorations into the expansive sonic landscape through her electric viola and effects processing speak to our mission to inspire people to think about science, music, and technology in new and imaginative ways."
"It's an honor to be part of this series celebrating Bob Moog's birthday and anniversary of the Moogseum!" noted Martha Mooke. "I have been 'synthesizing' multi-styles of music with technology, developing contemporary string techniques, and exploring new dimensions of creative expression since I first heard recordings of Switched-on Bach and Jean Luc Ponty in my early days of viola playing! I was scheduled to do a performance/workshop at the Moogseum this month, but due to the current situation, I'm glad to be able to offer a 'remote' version and hope to see many of you in person in the near future!"