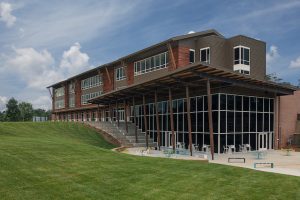 Sandy Springs, GA—February 2020… Located in a northern suburb of Atlanta, the Mount Vernon School is a private Christian K-12 institution on the leading edge of schools leveraging technology and innovation at the core of its mission and facilities. The most recent spatial innovation at Mount Vernon is the Upper School for grades 9-12, which completed construction in August of 2019. The four-story structure, which serves the Upper School's 1,012 students, is located on the school's Upper Campus.
The entire building, especially the performing arts spaces, are thoroughly wired and networked, with AV traveling over Dante and QSC Q-SYS networks. A Q-SYS Core 510 processor handles signal processing and routing, and all amplification and ceiling, pendant, and point-source loudspeakers are by QSC except in the Black Box theater, which has a QSC subwoofer and EAW loudspeakers. To get audio signals on and off the Dante network, AV contractors Pendley Productions installed 10 Attero Tech unD6IO-BT Dante/AES67 networked audio wall plates and two unBT2A Bluetooth audio wall plates.
"Pretty much all of the systems we install are built around Dante nowadays, so the ability the Attero Tech panels give us to go from analog to Dante was their biggest attraction for this project," relates Pendley Productions President Brandon Pendley. "We hadn't used Attero Tech panels at this scale before but we had put them in some health clubs that needed wireless input for instructors. They have been using the panels for several years without requiring technical assistance.
The primary educational spaces on the school's top two floors are referred to as "districts." Each district is broken into three areas: North Learning Neighborhoods, The Bridge, and South Learning Neighborhoods. Learning studios in each district are designed to be as flexible open spaces with dedicated support areas that include a maker space, fabrication lab and STEM Lab. The first district supports administration, lobby, and innovate arts facilities.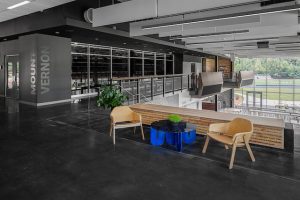 Each of the three areas in each district has a station with a unD6IO-BT mounted side-by-side with a QSC TSC-7w Q-SYS network touchscreen controller. The Bluetooth receiver in the unD6IO-BT sees the most use but the panel also offers 3.5 mm TRS and RCA analog input jacks and a 3.5 mm TRS output jack. Signals input to the panel are placed directly onto the Dante network.
The dance studio and band room each have a unD6IO-BT panel. In the dance studio, for instance, an instructor with a wireless headset or handheld microphone can give direction on top of music being played over Bluetooth or from one of the two Spotify players located in the network closet. "The range of the Attero Tech Bluetooth panels is great," enthuses Pendley. "It's surprising how far you can walk from them. The staff using them have been blown away; they're so excited."
The ninth unD6IO-BT panel is located in an administrative area on the second floor. The admin suite and front desk have access for emergency paging over the same networked audio system. In the event of an emergency, administrative staff at the front desk can hit one button and send a recorded announcement throughout the facility.
The final unD6IO-BT is in the Learning Stair, a three-foot-wide, custom-milled ash wood staircase that forms a sort of amphitheater with a stage at the bottom. A projector and large screen come out of the ceiling, with the screen suspended on very small aircraft cables, making it appear to float in the air in front of large windows. A Q-SYS touchscreen controller enables raising and lowering the screen and selecting inputs. On the stage platform are HDMI inputs, as well as local microphone inputs to supplement two handheld and two headset wireless mics. The unD6IO-BT panel enables audio input via Bluetooth, and audio can be recorded from the Attero Tech wall plate's 3.5 mm analog output, from the Q-SYS network, or both.
The Arts District, which includes a dance studio, rehearsal hall, and recording studio, encompasses a hallway set up as an art gallery and equipped with a Attero Tech unBT2A panel with Bluetooth input and a touch screen controller. Another unBT2A, used primarily for streaming background music, is located on the building's first floor café which includes a teaching kitchen and Ground Floor Coffee Company, a private outpost of Atlanta-based Taproom Coffee.
Configuration of the Attero Tech panels was easy. "Attero Tech has a plug-in for the Q-SYS Design software, which makes it easy to set the panels up," Pendley says approvingly. "At the very beginning of the install, we had our shop guy log on to each of the touch screens and Attero Tech panels and assign them IP addresses. When I went out to commission the system, I never had to go into the Attero Tech software because the panels were already in the Q-SYS file. I just opened each panel in the Q-SYS plug-in, entered the IP address for its location in the building, and replaced the temporary generic name we had given it at the shop with the name the school wanted. In just a few minutes, they were all done."
The staff at Mount Vernon is very pleased with their new audio system, and the Attero Tech wall panels are an important part of its success. "The Attero Tech panels have been really  stable and they sound great," Pendley reports. "They work so well we haven't even looked at anything else."