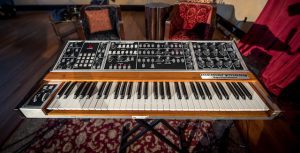 Asheville, NC – August 28, 2019…  
Today the Bob Moog Foundation announces its fall raffle featuring a coveted, fully restored vintage Memorymoog Plus synthesizer formerly owned, played, and signed by Dr. Fink of The Revolution. The Memorymoog was part of The Revolution's touring rig on the 
Purple Rain, Around the World in a Day,
and
 Parade 
tours.
The raffle begins on August 28, 2019 at 7am ET, and ends on September 23, 2019 at 11:59pm ET, or when all 4,500 tickets sell out, whichever comes first. Tickets are $25 each or five for $100, or 12 for $200, and can be purchased here:
http://bit.ly/MemorymoogPlus2019
Funds raised from the raffle will be used to expand the Foundation's hallmark educational project, Dr. Bob's SoundSchool, currently inspiring over 3,000 elementary school students per year through the science of sound. The raffle will also help support the Foundation's newest project, the Moogseum, an immersive, experiential facility that brings Bob Moog's legacy and the science of sound and synthesis alive for people of all ages. The newly opened Moogseum is located in downtown Asheville, NC.
"When the Memorymoog Plus was released with MIDI capability, a sequencer, and the capability to hold 100 patches in its memory bank, I knew I had to have one in our touring rig," commented Matt Fink, keyboardist for The Revolution. "I have so many fond memories of using this Memorymoog on tour, and of the tours themselves. I've loved Moog synthesizers since I bought my first Minimoog at the ages of 18 in 1976. It's gratifying to see this Memorymoog get new life through this raffle benefiting the excellent projects of the Bob Moog Foundation."