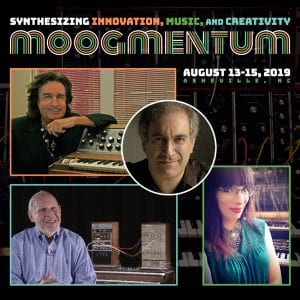 Asheville, NC—July 2019…  From August 13 through 15, 2019, synthesists and electronic music lovers around the world will focus their attention on Asheville, North Carolina, as the nonprofit Bob Moog Foundation hosts "Moogmentum: Synthesizing Innovation, Music, and Creativity," a three-day celebration of the grand opening of the foundation's Moogseum. Located at 56 Broadway Street in downtown Asheville, the new Moogseum will initially feature eight exhibits, many of them interactive, immersive, or technology-driven, that invite visitors to explore Dr. Bob Moog's life and work and the fascinating 120-year history of sound synthesis.
Moogmentum will kick off at the Asheville Masonic Temple Theater on Tuesday evening, August 13, with a pair of special events. One highlight will be a performance by, and conversation with, stellar Swiss keyboardist, film composer, and songwriter Patrick Moraz, best known for his work with Yes and the Moody Blues. Another will be a conversation and listening party with seminal composer, inventor, and educator Herb Deutsch, who collaborated with Bob Moog to create the first Moog synthesizer. Deutsch will discuss his early work with Dr. Moog and will play clips from one of the earliest recordings and explanations of the Moog synthesizer sent from Moog to Deutsch in 1964.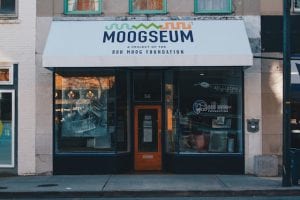 The next day, Moraz and Deutsch will each appear at intimate VIP events at the Moogseum, limited to 25 attendees. The VIP events, as well as the events the night prior, will be moderated by pioneering synthesist and composer Larry Fast, famed for his groundbreaking Synergy album series and his work with such luminaries as Peter Gabriel, Foreigner, Nektar, and Hall & Oates. Deutsch's VIP event will feature the unveiling of one of the Moogseum's most important historic exhibits, on loan from the Henry Ford Museum: the original Moog synthesizer prototype. After his VIP event, Moraz will offer a public CD signing. The three legends will then be guests of honor at a special dinner on Wednesday night.
On Thursday, multi-instrumentalist, composer, modular synthesist, and clinician Lisa Bella Donna will offer a sound sculpting workshop and CD signing, followed that afternoon by a keynote presentation from Larry Fast. The Moogseum ribbon-cutting ceremony will follow that afternoon, topped off by the free (with suggested donation) Moogseum Grand Opening Celebration Concert, featuring Lisa Bella Donna, in the evening.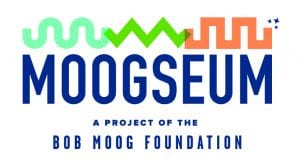 "We are immensely proud to couple the grand opening of the Moogseum with performances, workshops, and presentations by musical legends Herb Deutsch and Patrick Moraz and by synthesizer alchemist Lisa Bella Donna," comments Bob Moog Foundation Executive Director Michelle Moog-Koussa. "Through these three deeply creative, innovative musicians, we not only celebrate the historical richness of the Moogseum but the very spirit of Bob Moog's enduring legacy. This unique combination of talent promises to lend rare insight into the Moog legacy and the power of music and synthesis. We are honored to be exhibiting the prototype of the Moog synthesizer, which adds an immense amount of historical significance to this momentous occasion."
The ribbon-cutting ceremony and Grand Opening Celebration Concert are free to all. Tickets for the other Moogmentum events will go on sale on Wednesday, July 17, available from Eventbrite. For more information about Moogmentum, the Moogseum, and the Bob Moog Foundation, visit moogfoundation.org.