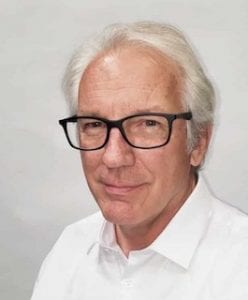 Burbank, CA – December 2020… Professional AV/Technology systems integrators David Carroll Associates, specialists in the design, installation, and oversight of complex audio, video, and control systems, have expanded their operations with the appointment of industry veteran Greg Kirkland to oversee the company's new offices in Southern California.
Kirkland brings more than 30 years' experience in live and installed AV markets to DCA, most recently serving as technical consultant and ambassador for pro audio loudspeaker manufactures L-Acoustics. Prior to L-Acoustics, Kirkland spent several years overseeing the technical sales team for VUE Audiotechnik.
Beginning his career in the 1970s with McCune Sound, Kirkland has mixed tours for Andy Williams, Burt Bacharach, Julie Andrews, Rosemary Clooney and served as system tech for the Grateful Dead, to name just a few. As a founding partner of Thomas Gregor Associates, he has overseen the design and installation of audio systems in numerous world-class performance venues across North America, Europe, Asia, and the Middle East.
In his new position, Kirkland will oversee the rapid expansion of DCA into the busy Southern California market, serving DCA's existing roster of Silicon Valley clients, and spearheading a focus on the media and entertainment segment.
"We are thrilled to welcome Greg to DCA," enthused DCA Founder and President David Carroll. "He brings unparalleled expertise and decades of experience to the team and is the ideal person to take charge of the multitude of projects we already have in the works in the Southern California market."
Kirkland added, "David Carroll Associates has been deeply involved with many of the projects, markets, and client base that I've been working with over the years. DCA is one of the most forward-thinking organizations I have worked with, and their designs are always exceptionally innovative and creative. I'm excited to be able to contribute to their well-deserved growth as a powerhouse in the installed AV sector."