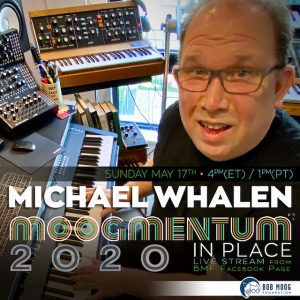 Asheville, NC – May 13, 2020… The Bob Moog Foundation is thrilled that composer, musician, and sound designer Michael Whalen will be presenting a Facebook live stream concert with insights, inspiration, and Q&A on Sunday, May 17, 2020 at 4pm (ET) /1pm (PT).  The event is part of the Foundation's Moogmentum In Place, a month-long series of musical fundraising events celebrating Bob Moog's birthday and the one-year anniversary of the Moogseum, both occurring on May 23rd.
Whalen will broadcast live from his New York City production studio, surrounded by a stunning array of synthesizers and keyboards, including a Minimoog, Moog One, Moog modular System 15, and three Mother 32s. The hour-long event will be a combination of performance and insights into his composition and sound design process. Attendees will have the opportunity to ask questions and to donate to the Foundation through Facebook or Paypal during the event.
"I love talking about using synthesizers as sound design tools. We'll play with some synths and then I'll do my best to answer your questions," notes Whalen.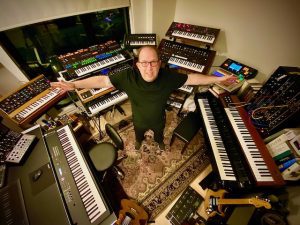 Michael Whalen is a two-time Emmy® award winner, BMI award winner, and Grammy-nominated composer and music supervisor. A veteran of more than 800 TV and film scores, thousands of commercials, and numerous TV themes and video games, Michael is also a world-renown recording artist and producer, with 33 solo and soundtrack recordings to his credit. His song, "I Have Loved You For A Thousand Lifetimes" has more than 37,000,000 streams on Spotify and over 100,000 views on YouTube. Known for his beautiful melodies and gorgeous textures, Michael is also an expert on music copyrights and music monetization, and is a noted speaker on the future of the music business. He has been adjunct professor at four major universities, and is published by Warner/Chappell Music as well as being a Yamaha artist.
"We are so excited to share Michael's beautiful music, as well as his unique perspective into sound design and synthesis, with our worldwide community of supporters," remarked Michelle Moog-Koussa, the Foundation's Executive Director. "During this time when many of us are stuck at home, we are heartened to be able to bring musical creativity and inspirational education into people's homes."
Michael's latest album can be streamed here: https://fanlink.to/SacredSpaces