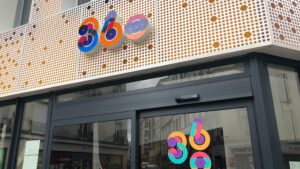 Paris, France – June 2020… Opened in February 2020, The 360 Paris Music Factory has been bringing the immersive audio experience to the heart of Paris' famed Barbès district, marking its February 25 debut with an immersive concert by the Orleans jazz trio Akagera.
The trio – Stéphane Montigny (trombone), Benoît Lavollée (vibraphone) and David Georgelet (percussion) – perform onstage at the front of the hall, but their music emanates from seemingly everywhere in the space, with percussion filling the rear of the auditorium and trombone coming from in front and all sides, while marimba and vibraphone float above the crowd. It's an experience that belies the senses and creates a sonic performance much larger than the three musicians themselves.
With twenty microphones onstage and as many speakers hanging in the room, the effect is undeniable. "The objective is to wrap the spectator with music," reveals Benoît Lavollée. While the trio released their first album, Serpente, as an immersive recording more than a year ago, the 360 Paris Music Factory show marked the first time the group performed their material in a venue specifically designed for the immersive experience.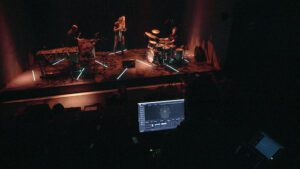 Audio engineer Jean-Loup Pacquais mixed the show from the center of the room using Spat Revolution immersive mixing software from Flux::Immersive to move object-based elements within the 360-degree sphere. "I simply grab this object to move the trombone from left to right or front to back," Pacquais explains. "I take into account the ideas and desires of the artists, of course, but it's me who has the final say."
The surround system in 360 Paris Music Factory is purpose-designed to create an immersive experience for every seat in the house. "It is the first concert hall in France to have a fully integrated system designed for complete sonic immersion of the audience," reports Jean-Michel Gaché, who supervised the design of the set. The immersive mix creates an entirely new sonic and musical impact, enhancing harmonies and adding transience to the band's unique European-African sound.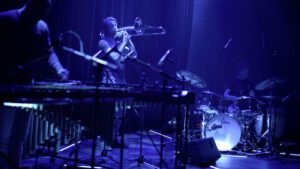 "Three-dimensional sound is not new, but it has been tremendously under-used in music, and particularly in jazz," observes Akagera drummer and leader David Georgelet. The group has long embraced innovative new technologies in their work, and partnered with Flux early on to implement their software in performances. The three musicians and the three engineers have become a closely knit team. "It is a particularly enriching project," enthuses Stéphane Montigny. "While we are experimenting with a new artistic staging, they are refining their software."
As the band prepares to tour later in the year, Benoit acknowledges that not all venues will be equipped to handle the immersive sound. "When the rooms are not equipped, it's long and complicated to set up a surround system," he remarks. The ability to expand and collapse the mix configuration via Spat Revolution is an essential component in adapting to different spaces.
While large-scale immersive systems have been becoming more commonplace, the ability to bring the experience to a smaller audience is one whose time has come, concludes David Georgelet. "It is important to democratize this type of technique, and Flux::Immersive has been a big part of that. We hope that it will spread quickly in the world of music."