Toulouse, France – August 2020…Veteran live sound engineer Johnny Torchy has spent many years mixing shows across his native France and the rest of Europe. He's also known as an early adopter, and isn't afraid to try out new tools and technologies in his work.
Most recently Torchy has been driving the faders for French melodic rockers Neko Light Orchestra. In celebration of the band's eight anniversary, Neko Light Orchestra booked the 800-seat Le Bascala, in the Bruguières district of Toulouse, for their "Marathon Musical Festival," featuring eight concerts in 12 hours. As if that wasn't enough of a challenge, the decision was made to present the show in an immersive environment.
Torchy says the goal was to recreate the location of the various musicians on stage – up to 13 members – while creating a sense of depth using advanced room acoustics simulation. To meet the challenge, Torchy chose object-based immersive mixing via Spat Revolution and Wave Field Synthesis technology.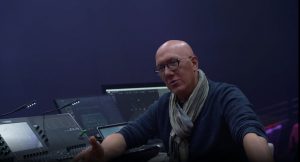 "Part of the challenge was that WFS typically calls for a large number of loudspeakers to create reliable results," Torchy observes. "But in fact, for this project I've used only seven line array sources, all in front of the audience. The results were very impressive."
Torchy's system utilized seven clusters of four L-Acoustic KARA loudspeakers facing the audience, with seven stacks of two KIVA cabinets on stage lip for front fill. Driving the mix was a Yamaha CL5 console equipped with a Rio 3224D I/O box bringing in 60 inputs. System connectivity was via a Dante DVS network, with a MacBook Pro running FLUX:: Immersive Spat Revolution.
"Most of the sources were sent post-fader to Spat Revolution, except for a few of the more complex instruments using multiple microphones, like piano, harp, and string sections, where we sent summed stems," Torchy explains.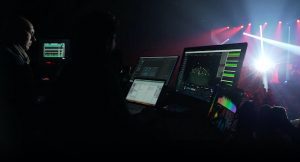 Using Spat Revolution's advanced reverb engine enabled Torchy to perform advanced acoustic simulation, recreating perceived dimension and space in ways traditional consoles and PA systems cannot achieve.
"I was shocked," Torchy reports. "The sensation was simply incredible. You could literally make the source disappear. Of course there's still sound coming from the loudspeakers, but the speakers themselves literally become transparent, with the actual wavefront of the source objects dominating. It's no longer the same as mixing at a console with left and right channel. Its more like mixing in a virtual room, created in Spat Revolution."
Torchy had previously build a smaller seven-speaker setup to test the system and do preproduction, but the impact in a live setting was simply remarkable. "With Spat and WFS, I'm able to transmit the imaging and the artistic emotion not just to 15 or 20 percent of the audience that's seated in the middle, but to the entire audience," he enthuses. "Whatever the placement of each musical object, I was able to use Spat Revolution WFS to create the image I had created in the studio. I don't know of any other system that can do this over such a wide audience area."
For Torchy, this was an experience he will not soon forget. "It was beyond any other setup I've ever deployed. It will be hard to go back to anything less."
###