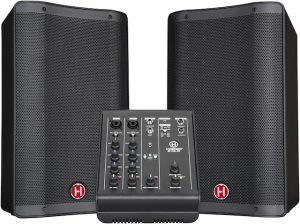 Thousand Oaks, CA—September 2019… Harbinger Pro Audio's new M100-BT and M200-BT portable PA systems are complete, flexible, easily transported sound systems for bands and solo artists. Both PA systems feature powered mixers with a variety of inputs, including stereo Bluetooth input; channel EQ; and 800 watt (peak) stereo power amplifiers that deliver a big, clear, full-range, best-in-class sound and plenty of power for large spaces. Custom carry bags are also included for easy transport and storage.
The M100-BT PA system includes a pair of two-way speaker cabinets, each with an eight-inch woofer and a compression high-frequency driver. Each speaker can deliver up to 118 dB SPL, with a total of 124 dB SPL for the pair. The M200-BT employs a ten-inch woofer and a compression high-frequency driver and can put out up to 120 dB SPL per speaker and 126 dB SPL for the pair.
In both PA systems, the speakers can be configured as a stereo main pair or as a mono main speaker plus a mono stage monitor. Selectable speaker modes tune the speakers appropriately for either application. The speakers can be free standing or pole mounted on standard speaker stands (stands not included).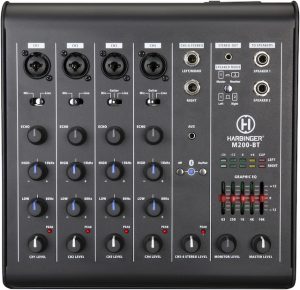 The M100-BT's four-channel stereo mixer offers plenty of flexibility, including two mono channels with switchable combo mic/guitar/line inputs and a stereo channel with a pair of ¼-inch, TRS balanced/unbalanced line inputs; a 1/8-inch stereo aux input; and stereo Bluetooth input for wirelessly connecting smartphones, tablets, and laptops. All of the inputs are available simultaneously.
All mixer controls are straightforward and easy to use. Each mono channel is equipped with a channel level knob, a level knob for the built-in Echo effect, and low- and high-frequency EQ knobs (±12 dB shelving, with 80 Hz and 10 kHz cutoff frequencies). The stereo channel has a stereo level knob.
In addition to the left and right ¼-inch speaker outputs, the M100-BT mixer offers a 1/8-inch stereo output—great for connecting to a recording device. A master level knob and monitor level knob complete the controls.
The M200-BT mixer is identical to that of the M100-BT, with two significant exceptions. Where the M100-BT has a four-channel mixer, the M200-BT has a six channel mixer that adds two more mono channels with mic/line inputs. The M200-BT channels are otherwise identical to those on the M100-BT, including the level knobs and the mono channels' 2-band EQ and Echo controls. The other difference is that the M200-BT adds a five-band graphic EQ on the main bus for tuning your PA system to the room.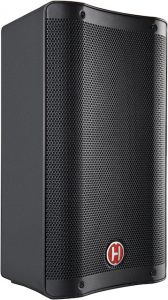 Rugged moulded PPE plastic speaker cabinets and mixer housing and steel speaker grilles and mixer panel ensure the M100-BT and M200-BT PA systems will stand up to the rigors of travel and live performance. The M100-BT weighs in at just 33 lbs. and the M200-BT at 43 lbs., and with the included speaker bags with convenient hand straps and mixer bag with adjustable shoulder straps, transportation is a breeze. Both systems come with speaker cables and with power cables for their internal 115 VAC power supplies.
Harbinger's M100-BT and M200-BT are available now in stores and online. For more information, visit https://harbingerproaudio.com/muv-series.