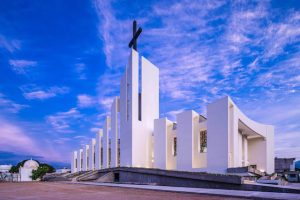 Valledupar, Cesar, Colombia—September 2019… Santo Eccehomo Cathedral in Valledupar became Colombia's largest cathedral when it opened its doors to more than 4,000 worshippers in April 2017. At 61 meters (200 feet) long and 34 meters (112 feet) wide, a capacity congregation of 6,000 (2,500 comfortably seated) can come together beneath a ceiling that soars to 14 meters (46 feet) high to celebrate the magnificence of a church they all contributed to building. The $12M pesos required to erect the cathedral was collected through an extraordinary campaign that brought in donations from rich and poor through a telethon and numerous fundraising activities and programs.
The cathedral is the anchor of a complex that includes two chapels, auditoriums, meetings rooms, a cural house, offices, a crypt of ossuaries and funeral urns, and a parking area. As a new structure, the cathedral was planned from the beginning to include appropriate technology, a job entrusted to Bogotá-based design/build firm Schallertech. In consideration of the cathedral's national prominence, as well as its sizable needs, Schallertech opted to install loudspeakers from Renkus-Heinz.
The venue was not easy to cover with audio because as new as it is, it harks back to traditional cathedrals in some ways. "Catholic churches in Colombia clearly show the influence of the country's time as a Spanish colony, but there have not been many large churches built in recent generations," remarks Schallertech CTO Freddy Sampayo. "Despite being an example of modernity that breaks with the colonial tradition, Santo Ecchehomo still presents the same acoustic challenges as the ancient temples." Indeed, much of the cathedral's construction is highly reverberant concrete, and the high ceilings and large, exposed expanses of the walls create the same extreme reverberation found in older cathedrals. Schallertech recommended installing acoustical treatment, but this is not usually done in Catholic churches, and whether for that reason or another, treatment was not part of the design.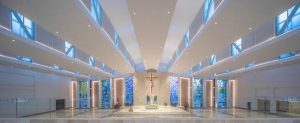 The highest priority, of course, was being sure everyone could hear the spoken word, but there is a choir, and sometimes a band accompanies celebrations. "We use Renkus-Heinz products when we have challenging spaces," Sampayo states, "and since acoustic conditioning was not part of the project, the Renkus-Heinz products were essential for attaining intelligibility, which was the main concern of all the project's stakeholders."
The more sound could be kept off the walls and directed to the congregation, the higher intelligibility could be. To achieve this, Schallertech installed a Renkus-Heinz ICONYX Gen5 IC32-RN digitally steerable line array loudspeaker and an IC8-RN digitally steerable line array loudspeaker on either side of the altar area, mounted 2.1 meters (7 feet) off the floor. In order to cover the entire audience area, two of the speakers were angled out 45 degrees horizontally, with the other two speakers remaining on axis.A pair of Renkus-Heinz PN212S-RD dual 12-inch subwoofers supply the low frequencies needed for music. Reinforcement was added to one of the chapels, as well, in the form of a pair of ICONYX IC16-8-RD digitally steerable line array loudspeakers. The sources for the cathedral system are microphones and analog mixers, but the speakers are connected through Renkus-Heinz's RHAON software to enable monitoring, DSP control, and real-time adjustments.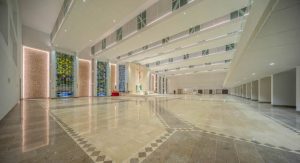 "The ICONYX series products were chosen both because their digital steerable array technology ensured good intelligibility and because of their low-profile appearance," Sampayo explains. "Having a line array hanging over the altar was something that no one would even consider because of the aesthetics of the place."
Sampayo reports that Schallertech's strategy has proved entirely successful. "The system is fully operational and the archdiocese is very happy with it," he reports. "Priests from other churches were amazed by the results and now are asking for consulting on how to improve the sound in their parishes."