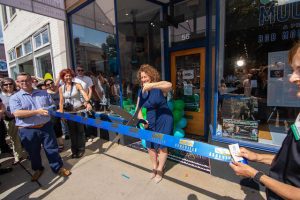 Asheville, NC – September 2019… On August 13 -15, 2019, the Bob Moog Foundation celebrated Moogmentum, a series of events marking the grand opening of the Moogseum. Held at four different venues across downtown Asheville, the celebration drew a wide range of attendees from across the US, as well as international guests from as far away as Canada and Argentina.
Moogmentum brought together three legendary figures from the Moog legacy: Herb Deutsch, who collaborated with Bob on the first Moog Prototype; Patrick Moraz, keyboardist for Refugee, YES, and the Moody Blues; and Larry Fast, pioneering synthesist, technologist, and historian, as well as contemporary synthesist, Lisa Bella Donna.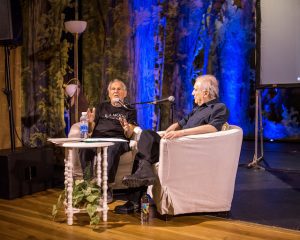 The three day celebration kicked off with an evening at the Asheville Masonic Temple, where Herb Deutsch and Larry Fast offered an intimate conversation exploring Deutsch's early collaborations with Dr. Moog, followed by interviews and a stirring performance by Moraz on multiple vintage Moog synthesizers.
The following day featured an exclusive tour of the Moogseum led by Michelle Moog-Koussa, the Foundation's executive director, who shared insights on the conception and creation of the museum's experiential exhibits. Following the tour, the invited guests were treated to a one-on-one chat between Fast and Moraz. The day's events culminated with Herb Deutsch unveiling the original prototype of the Moog synthesizer, on loan to the Moogseum from The Henry Ford museum through May 23, 2020.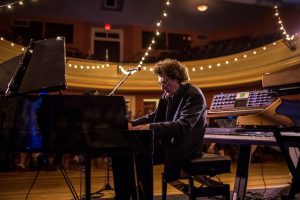 Thursday, August 15th marked the Moogseum's official opening day, selected to coincide with Leon Theremin's 123rd birthday. Following a workshop by Lisa Bella Donna, Larry Fast delivered a keynote address tracing 100 years of the evolution of electronic music. The event culminated with a ribbon cutting ceremony performed by Michelle Moog-Koussa, and an evening performance by Lisa Bella Donna.
"Moogmentum was a rousing success, but more than that, it was an auspicious event and a truly moving experience," remarked Michelle Moog-Koussa. "What an extraordinary way to celebrate Bob's lifetime of innovation and inspiration. We are tremendously grateful to Patrick, Herb, Larry, and Lisa, as well as to the many people whose hard work and dedication has made the long-standing dream of a Moogseum a reality.
For more information on Moogmentum and the Moogseum, visit https://moogfoundation.org/moogmentum-wows-attendees-with-celebration-of-music-history-creativity-and-innovation/