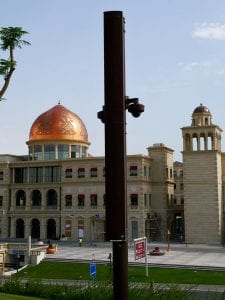 Doha, Qatar—July 2019… In the 2nd century, Ptolemy wrote "Catara" as the first known designation on a map for what we now know as the Qatar Peninsula. The Katara Cultural Village, named from an 18th century variant on Ptolemy's name, is a 21st century project in Qatar's capital, Doha, that celebrates the diversity of global cultures. With a 5,000-seat amphitheater, two mosques, more than a dozen restaurants and cafes, shops, and a private 1.5 km (a little under one mile) beach with gondolas and water sports, Katara is indeed an entire village within a single development. 
Summer 2019 will see the opening of Katara Hills Gardens, a 606,000 square meter (652,000 square foot) waterfront development within the village that features two parks containing jogging trails and other public recreational facilities. The parks needed a sound system for background music and announcements, so Katara Projects tapped Doha-based system integrator Informatica Qatar to design, supply, and install CCTV, AV, and background music systems. BOOM Construction was the general contractor for the project, and KEO International handled project construction management.
Informatica decided the best way to fill the large outdoor space with quality sound and a non-intrusive appearance was to install ICONYX IC Live Gen5 digitally steerable line array loudspeakers from Renkus-Heinz. "Renkus-Heinz was chosen for its durability, especially under rough outdoor conditions, and also for their line arrays' ability to cover large areas such as the park we are talking about here with very high-quality playback," states Informatica Project Manager Ahmed Youssef. "Renkus-Heinz also has a strong presence in Qatar, with a lot of successful installations."
Informatica brought plenty of experience with open-air systems to bear on the project. In its 10 years of operations in Qatar, the company has worked on numerous large projects, including systems at Al Rayyan and Lusail Stadiums for the upcoming 2022 FIFA World Cup. For the Katara Hills Gardens project, 15 Renkus-Heinz ICL-F-Dual-RD-WR digitally steerable line array enclosures are fed by sound system electronics from LDA Audio Tech of Málaga, Spain, who collaborated with Informatica and Renkus-Heinz on the project. A close collaboration between Renkus-Heinz and LDA ensured a seamless and hassle-free integration of the IC Live Gen5 arrays.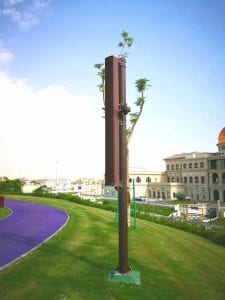 "The loudspeakers were made with a custom color, RAL 8016, to match the woody look of the trees on site and to try as much as possible to fit the speakers into their outdoor locations unobtrusively," describes Youssef. The loudspeakers were mounted on poles located around the parks and were connected to a Dante network through dual ports with fiber optic inputs, thereby eliminating cable length limitations across the broad, open expanses. The fact that Renkus-Heinz was the only loudspeaker manufacturer equipping their products with Dante over fiber optic added significantly to the IC Live's suitability for the project.
The ICL-F loudspeakers were well equipped to meet the demands of the job. "The objectives for the sound system were to provide maximum coverage at a comfortable level for the jogging tracks and other walking and sitting areas," Youssef explains. But the hilly topography presented challenges. "We needed to ensure uniform distribution of music in the park, despite there being different heights inside the hills," says Youssef, "and the wind speed can be high in some parts of the year." The ICL-F-Dual, however, combines two ICL-F-RN modules, each equipped with five 6.5-inch cone transducers with powerful neodymium magnets, and three 1-inch titanium nitride compression drivers. This gives the ICL-F-Dual the ability to form up to eight separate beams with different coverage angles and throw full bandwidth (80 Hz to 20 kHz) sound at 105 dB SPL over distances of up to 30 meters (100 feet). 
The sound system is generally supplied with audio from a client workstation, an LDA NEO8060S02, or an LDA RCD-21R multi-source audio player that incorporates a CD/DVD player, FM/AM radio, and USB and SD Card interfaces. LDA also supplied controllers, software, paging microphones, and other components that are located in the control room for the facility. Signal switching is performed by Cisco switches.
"The client is very happy with the system," Youseff reports. "In fact, they told me they want to use Renkus-Heinz speakers in other new areas of the village as they get built."