Montreal, Canada – February 2021… Founded in 1969, the University of Quebec at Montreal (UQAM) is one of the largest French-language universities in the world, enjoying worldwide recognition for its academic excellence and its innovation in the arts. One of UQAM's more popular courses of study is its Media School, where students can major in all facets of audio and media production. The school was one of the first in the country to offer courses in multimedia and immersive audio, and has been building a state-of-the-art multichannel facility and research center, Hexagram, with immersive technology provided by SPAT Revolution from FLUX:: Immersive.
Professor Simon-Pierre Gourd oversees the Media School's Sound Creation and Experimental Media labs, and has a long history working with immersive audio. A founding member of the Institut Universitaire des Nouveaux Médias, Gourd reflects on the rapid evolution of immersive audio.
"In the early days of immersive audio, we started out experimenting with an old Tascam console, using the cue outs and direct outs to create an 8-channel mix," he explains. "Eventually we moved on to ADAT and then DAW. Needless to say, it was all fairly primitive, and it was always a struggle to achieve the environment I had in my head with the tools we had to work with. I call it the Technological Tango – the dance between what your tools are designed to do, and what you want to make them do."
The introduction of FLUX:: Immersive software profoundly changed the equation, says Gourd. "Object-based mixing is a completely different approach to immersive audio. Sounds are no longer related to a channel. Now, each sound can be an object in a virtual space."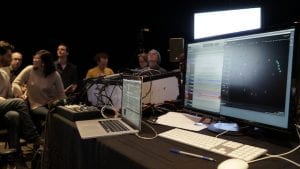 One of the most impressive aspects of immersive audio is also one of its biggest challenges: that is, the almost limitless range of possibilities. Artists are not restricted in channel counts or configurations, and that can mean that a composition created for a 16-channel circular arrangement might end up being played back in a 36-channel immersive dome environment. As Gourd explains, this can easily become problematic.
"There are a lot of composers working in dome-type environments with widely varying channel counts and different speaker placements, which require different angles. We've done a number of events where we've featured multiple composers and multiple configurations, including both immersive and binaural. In one case, we had a guy deliver a piece done in 22.2; our system has 32 channels, with speakers in much different locations. We were able to load the project into SPAT and easily reconfigure it. About an hour of tweaking and fine-tuning and everything worked."
Unlike many other immersive platforms, SPAT also enables users to create systems using the speakers and hardware of their choosing. "A lot of the systems available today are closed architecture," Gourd offers. "You have to buy their speakers and their processors, and that can be restrictive and expensive. With SPAT, we can remain hardware-agnostic, choosing whatever loudspeakers we prefer and working within different platforms."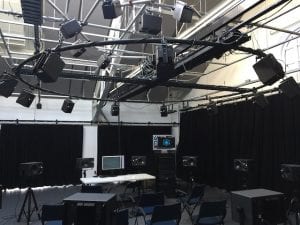 That flexibility is ideal for a university environment with multiple departments and disciplines. "We have something like 60 researchers here, working in film, video, artificial intelligence, and other forms of media. Some of us work in Pro Tools, some with Max or other software. With SPAT we can accommodate everyone's systems and everyone's workflow."
For UQAM students this also enables them to dabble in a wide range of experiences. "Our students have the opportunity to try pretty much everything having to do with audio and media production. Whether it's sound design, audio for games, or experimental media, we are able to provide them the environment to sample different disciplines and see what appeals to them. SPAT allows us to create any type of production environment."
For Simon-Pierre Gourd, SPAT Revolution has marked a paradigm shift in his approach to immersive mixing. "SPAT's object based mixing has been a complete game changer. After so many years of fighting with the technology, we now have an interface that enables me to create the concepts I had in my head."
###