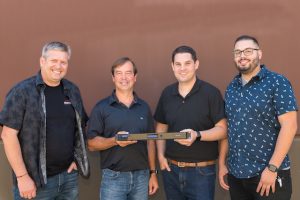 Seattle, WA—September 2019… Symetrix is pleased to announce the appointment of Allied ProTech West as its manufacturer's representative for the territories of Southern California, Southern Nevada, and Arizona. Based in Orange County, California, Allied ProTech West's team includes co-founder and President Rik Kirby, co-founder and VP Margie Kirby, Sales Manager Jeff Miranda, and Sales Engineer Brian Celestino.
Founded in 2019, Allied ProTech West is a relative newcomer to the rep scene but all of its team are long time veterans of the AV market. "We'd recently launched our rep firm, Allied ProTech West, alongside our existing distribution company, Allied ProTech," relates Rik Kirby, "and when the opportunity to work with Symetrix came up, it was a natural fit. Our forte is in working with AV technology brands, and when it comes to audio-over-IP solutions like Dante and AES67, Symetrix is a clear leader. The breadth of their product offerings is second to none, and their ambition and plans for the future are truly exciting."
"I'm looking forward to working with Allied ProTech West and their team to develop and grow our presence in their territory," comments Symetrix Regional Sales Manager Scott Wrege. "With their focus on delivering excellent customer service and technical support, Allied ProTech West is an outstanding partner for us."
For more information about Allied ProTech West, visit http://alliedprotech-west.com. For more information about Symetrix, visit www.symetrix.co.
Photo caption: Rik Kirby (Allied ProTech West), Scott Wrege (Symetrix), Jeff Miranda and Brian Celestino (Allied ProTech West) – click for larger image