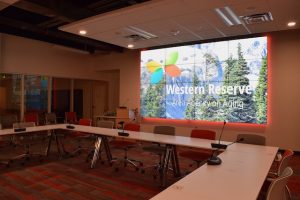 Cleveland, OH—February 2020… A private, nonprofit corporation organized by the State of Ohio, the Western Reserve Area Agency on Aging (WRAAA) is the planning, coordinating, and administrative agency for federal and state aging programs in Cuyahoga, Geauga, Lake, Lorain, and Medina counties. The Cleveland-based organization strives to enable aging individuals and people with disabilities to have their needs met with choice, dignity, and maximum independence and to help them remain in the place they like to call home.
Last year, the WRAAA moved into new headquarters in an existing building near Cleveland's theater district, essentially gutting and remodeling 57,000 square feet across several floors of the building to meet their needs. The organization's large downstairs meeting room is in heavy use, including the monthly meeting of the Board of Directors but unfortunately, the audio equipment that was initially provided proved inadequate. This quickly proved to be a major issue, especially because some meeting participants have impaired hearing. To correct the situation, WRAAA brought in respected AVL systems integrator Tim Daugherty, owner of Total Control. Daugherty and his team designed and installed a new system based on Televic Confidea G3 series wireless conferencing stations.
"Initially the client just asked for tabletop microphones, so that's what I sold them," relates Daugherty. "But once I understood what they wanted to do, I realized that was a mistake; without better sound reinforcement, they couldn't hear clearly and had to pick the mics up and put them in their face to talk. So I started looking at alternatives, and my rep told me about Televic products. We looked at Televic, and their system was a good fit, so I demoed it for the client. They fell in love with it as soon as I demoed it. The meeting room is a configurable space, and since they weren't always going to be set up in the same configuration, we chose a wireless solution."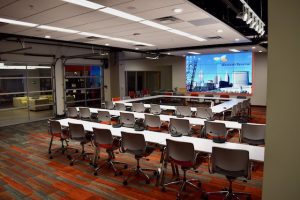 Total Control ended up installing 11 Televic Confidea G3 DD wireless delegate stations and one G3 CD wireless chairman unit. Televic Confidea G3 series units feature a built-in speaker, in addition to a gooseneck mic, Talk button, and 3.5 mm headphone jack. "They needed something with voice lift so the participants on the Board could hear everything, including comments made by far end—that is, remote—participants," Daugherty observes. "The Confidea G3 units with the built-in speaker were perfect. I don't know that anyone is using headphones to help with their hearing but with these units, they have that ability, as well. Televic has versions with options like multimedia displays, voting capabilities, and so on, and we looked at that, but for this project the client just needed the basic units. It's a great product, and they might expand their system in the future."
In addition to the sound reinforcement provided by the Confidea G3's built-in speaker, the Televic system is tied into the house audio system. "We also improved the house audio system because what was there wasn't adequate," recalls Daugherty. "We used the existing ceiling speakers, handheld mics, and lavalier mics. But we installed a Biamp Tesira processor to manage what signals go where and how much reinforcement we get so we can ensure that in addition to people on the Board who are using the Televic system being able to hear, people calling into meetings and people in the room can also hear. People also join these meetings via video, using the Zoom platform, so there is a video part of the system as well."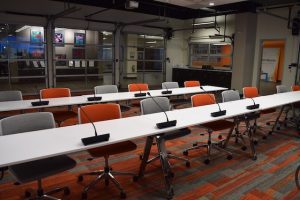 The house sound system relies on existing wide-dispersion ceiling speakers, so Daugherty programmed EQ and delay in the Tesira to ensure there would be no feedback issues with the Confidea G3 system's mics and speakers. "I suppose if they sat right under a speaker and turned the gain way up they could probably get feedback but that has not occurred," he muses.
WRAAA's space has an industrial look, and the meeting room's open ceiling and noisy HVAC system created issues that could not be overcome with a traditional microphone. "Overcoming the HVAC noise is another way that the Televic Confidea G3 system's putting speakers in the faces of the Board members was critical," offers Daugherty. The Televic gooseneck mic's ability to reduce ambient noise also contributed to the solution. "We were able to put a delegate station right underneath the air conditioning noise source, and the Televic mic didn't pick up the noise," Daugherty adds. "It worked very well."
Both Daugherty and his client are delighted with the Televic Confidea solution. "The Televic system does everything they need it to do," he asserts. "Audio quality is extremely important, and Televic hit it right on the head. It's a high quality system at a price point the WRAAA could afford, and they're super happy. We are really happy to recommend it. Televic is our new go-to for conferencing systems."