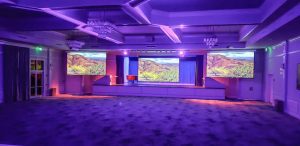 Boynton Beach, FL—January 2020… G.L. Homes' Valencia communities feature Florida resort-style living for active adults 55 and over, including single-family luxury homes and a wealth of amenities and activities, including well appointed clubhouses that serve as the community's centerpiece. During the past two years, the company's 796-home Valencia Isles community in Boynton Beach carried out a major remodeling of its 25,000 square foot clubhouse, including new networked AV and lighting systems designed and installed by systems integrators Professionally Installed Electronix (PIE).
PIE AV Systems Engineer Eric Manev, who designed the clubhouse systems, chose Visionary Solutions PoE, cinema quality, UHD-over-IP E4100 encoders and D4100 decoders as the core of the video network. "I've always been keen on the encoder and decoder concept for video distribution," Manev opines. "I like that it's very scalable. At Valencia Isles, we want to maintain maximum flexibility so that if the client wants to add or change something it won't be much of a hassle. That's one reason I chose Visionary Solutions."
In 2014, PIE installed projector screens, audio equipment, and PTZ cameras for image magnification in the grand ballroom, at which time Manev noted structural issues in the clubhouse's attic area. By the time of the remodel, the entire roof structure had to be replaced. "In this area, we don't have basements, so everything—plumbing, HVAC, electrical—goes through the attics," Manev notes. "This is a 20-year-old building but it was pretty much a new construction project because all of the infrastructure had to come out. I also had to pull down the projection screens and other AV equipment and store them."
The Visionary Solutions video network primarily serves the multipurpose theater/grand ballroom but extends to the lobby and café. "The problems I had seen in the past with video networks had to do with latency," relates Manev. "So when I was specifying this project, where we're using cameras and projectors for image magnification, I addressed the latency issue with Visionary Solutions. They assured me that latency would not be an issue—and they knew what they were talking about."
Three Visionary Solutions D4100 decoders feed the reinstalled projectors and screens in the ballroom. "The large center screen is used for cinematic events and some presentations, and the left and right side screens are mainly used for image magnification and for showing meeting minutes and other media during board meetings and so on," Manev details. "We gave them a decoder for a TV in the lobby, so they can use that as a sort of overflow, and a decoder in their café. They can independently show video in the café or lobby or watch whatever is shown in the ballroom. They also have cable boxes on the TVs in the café and lobby so they can watch their decoder or their cable box." A sixth D4100 decoder feeds into the camera-switching system, while a seventh D4100 feeds a confidence monitor in the AV booth.
Manev specified Visionary Solutions E4100 encoders for multiple applications in the grand ballroom. "They have the live camera feed for image magnification, and they show BluRay videos and have a cable box feed, plus a PC with an encoder in the AV booth for PowerPoint presentations," he recites. "We also provided an auxiliary E4100 encoder they can plug into any of six network ports around the room so they can locate a presentation PC, media device, or camera on a tripod wherever they want. That's a big benefit of using Visionary Solutions' encoder/decoder solution instead of a matrix-type solution."
Yet another encoder, not yet implemented, will accept the output of a PC for PowerPoint presentations and enable the staff to list community bulletins and schedules for events. "That encoder will be routed to the lobby and the cafeteria most of the time," reveals Manev. "But when they're loading in for an event in the main grand hall, they can project the bulletin board on the ballroom screen."
The Dante audio network, which is managed by a BSS BLU-series processor, extends through the entire clubhouse, including card rooms, meeting rooms, and more. The ballroom has JBL point-source loudspeakers, while the rest of the facility is equipped with SoundTube ceiling speakers. PIE expanded the existing Soundcraft console and Ashly amplifier with Dante NICs so everything could be on the multi-zone network. PIE also installed 500 low-voltage LED ceiling lights, managed using an Interactive Technologies CueServer.
Valencia Isles' staff controls the entire system—audio, video, and lighting—using a seven-inch RTI touch screen controller in the AV booth. A virtual panel running on the computers in the front office enables the staff to route video. "The Visionary Solutions driver that provides RTI support was released just before the most recent InfoComm show, and it has worked very well for us at Valencia Isles," reports Manev. "Also, Visionary Solutions' RS232 pass-through functionality is fantastic; my programmer fell in love with the way it works. For example, being able to shoot RS232 code from the RTI system out of one of the decoders was very easy to implement."
The extensive Valencia Isles install has been a learning process for all concerned. "I hosted a call between Visionary Solutions and the building's IT administrator to figure out how to make the system work on Netgear switches, which threw us for a bit of a loop—but we got it going," offers Manev. "Tech support has been great, and the Visionary Solutions network has been very reliable."