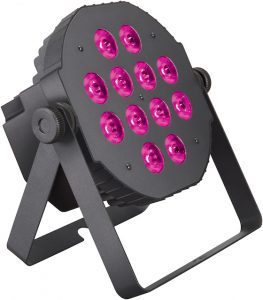 Thousand Oaks, CA – May 2020… Venue Lighting Effects, creators of high-impact, high-performance affordable lighting for stage and events, has introduced the new generation of Revolver and Tetra Series stage lighting and control.
Designed for performing musicians, DJs, singers, performers, and small to mid-sized venues, the new Tetra Series includes a full range of high-performance, cool-running LED lights, along with powerful, versatile control.
The new Venue Tetra Control offers an innovative approach to lighting control with intuitive, real-time access for running your rig from stage or mix position. Tetra Control offers a range of highly expressive, programmed sequences and features to add stunning, professional level visuals without complicated programming. Intuitive, pre-programmed auto-cycle and Color Fade modes enable performers and DJs to create stunning light shows and performance lighting with the touch of a switch, including strobes, instant effects, and over 30 chase modes. Tap Tempo and Audio Input modes can synch lighting to the beat. Convenient mic stand mounting and footswitch control empower even the most self-contained acts to deliver professional performance.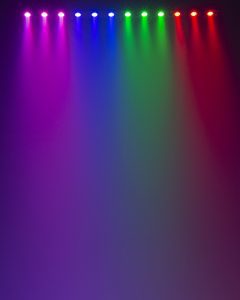 The Tetra 6 RGBA LED Wash Light is designed to deliver professional quality color wash lighting. With six 4-Watt quad-color LEDs and multiple operating modes, the Tetra 6 delivers a rich palate of 14 vivid colors, along with 20 standard chases and 20 more sound-active chases. With full DMX compatibility, the Tetra 6 can seamlessly integrate with almost any system, offering complete control in multiple channel modes. And the Tetra's double yoke design enables precise aiming whether stand or truss mounted, or free standing on stage floor. Also available in white for venues that require white fixtures to blend with their environment, the Tetra 6 features set-and-forget stand-alone programming, integrated sound active mode, and power linking for up to 62 simultaneous units. And for even more power and performance versatility, the Tetra 12 RGBA LED Wash light delivers all the features and control of the Tetra 6 and more, with 12 4-watt quad-color LEDs – twice as many as the Tetra 6.

Add even more versatility with the Venue Tetra Bar RGBA LED Linear Wash Light Strip. Featuring over three feet of coverage and four independent color zones, the Bar Wash Light Strip delivers professional quality color wash lighting, with 14 static colors, 20 standard chases and 20 sound-active chases, Mater/Slave capability, along with strobe, dimming, manual color mixing and much more. Static colors and color mix can combine to create subtle ambience and dramatic up-lighting. Full DMX-512 compatibility means seamless connectivity with external controllers, including the Venue Tetra Control. Like all Tetra models, power linking design minimizes the need for multiple power outlets and keeps cabling to a minimum.
Top off your pro lighting rig with the Venue Revolver Dual-Sided Moving-Head Effect Light and the Venue Tetra Beam. The Venue Revolver is a versatile two-in-one effect light that combines a spectacular flurry of green lasers, moonflower effects, and motorized components, all in a single compact fixture. It's the perfect tool for showcasing your performance, or conjuring the ultimate party vibe. The Revolver's intelligent, dual-sided moving head provides 540 degrees of horizontal movement and unlimited vertical movement, delivering dynamic, swirling lighting sweeps. Revolver's laser head includes eleven programmed chases, as well as sound-active and DMX control capabilities. Versatile mounting options include free-standing or hanging modes. Add the Venue Tetra Beam Multi-Moonflower, a 4-beam array of moonflower effects patterns, to take your performance to the next level. With four ultra-bright LEDs and a constantly evolving pattern of vibrant colors, the Tetra Beam's built-in microphone makes it ideal for fast and hassle-free sync to your music. Control it via the IR remote from anywhere in the room, or trigger its convenient standalone mode for a set-and-forget party.
To find out more about the new Venue Tetra Series and Revolver lights, visit venuelightingeffects.com