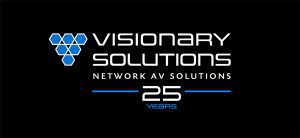 Santa Barbara, CA—January 2020… The team at Visionary Solutions is in a festive mood as the company celebrates its 25th anniversary. From its founding in 1995 as a designer of OEM dental and security cameras for some of the largest and most recognized brands in the world—including designing one of the first IP security cameras—Visionary Solutions has evolved into a leading developer and manufacturer of cutting-edge AV-over-IP solutions for the professional AV market. Today, Visionary Solutions products deliver ultra-low latency, UHD audio and video over IP networks, helping to spur a revolutionary convergence of AV and IT.
"First and foremost, it is with a tremendous amount of gratitude that we offer a very sincere 'thank you!' to all of our customers and co-workers, past and present," proclaims Visionary Solutions COO Scott Freshman. "Our customers continually show their confidence in us by awarding us their business. We are grateful for that confidence, and we continually do all we can to earn it. That confidence is possible thanks to our talented and dedicated team, who design, manufacture, and represent our products with an extremely high level of expertise, quality, and professionalism. Their efforts and continued dedication give us all reason to be excited about our future."
In 2002, Visionary Solutions developed its first IP video encoder, becoming one of the first companies to pioneer IP media-streaming products. Soon thereafter, the company began promoting the Visionary Solutions brand with great success in the worldwide broadcast market. In 2013, Visionary Solutions encoders were selected by NASA for deployment on the International Space Station, where they are still in operation.
Eventually, Visionary Solutions refocused on the professional AV market. "We are proud of the role Visionary Solutions has played in the AV-over-IP revolution, and we find ourselves better positioned than ever to lead these advances in the coming years," declares Freshman. To that end, Visionary Solutions is planning to hire additional staff and expand its worldwide distribution network and sales channel this year, and it will soon move into a larger facility in the same Santa Barbara, California, business park where it is currently located.
A major anniversary is cause for both joy and contemplation, muses Freshman. "Celebrating our 25th year in business provides us with an opportunity to both reflect on our past and to look forward to our future. Some would say our longevity is a tribute to our hard work; we like to think that our 25 years of success can be attributed to maintaining what makes Visionary Solutions unique: our culture of passion for delivering customer value. This passion, and our relationships with our customers, will remain our foundation for the next 25 years. The world of professional AV is ever-changing, and we must think ahead to what the next 25 years will hold. Building upon our industry leadership and expertise requires further dedication, commitment to customers, innovation, and execution of our vision."
While focused on innovating and developing the next generation of technology, the Visionary Solutions team knows how to balance work and play. "We are planning a 25th anniversary party for InfoComm in June, and we will release four new products soon," Freshman confides. "Come see us at ISE for sneak peeks. We are proud to celebrate our 25th anniversary and are confident that Visionary Solutions will continue its successes for many years."