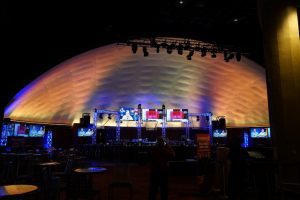 Lawrenceburg, IN—November 2019… Lawrenceburg, about 25 miles west of Cincinnati, was an important trading center for riverboats on the mighty Ohio River in the 19th century. In a way, the Hollywood Casino Lawrenceburg harkens back to that tradition: It's built on a big boat, permanently tethered to a pier on the bank of the Ohio, because when the casino was founded, Indiana required that casinos be located off shore.
Recently Lawrenceburg AV integrator ClearSound Design designed and installed a new AV-over-IP system at Hollywood on the Roof, the main performance venue in the Hollywood Casino complex. The video portion of the new AV network is based on Visionary Solutions E4100 and D4100 POE 4K UHD-over-IP, cinema-quality, ultra-low-latency encoders and decoders. A Dante-enabled Symetrix Prism 4×4 DSP, programmed using Symetrix Composer 7.1 software, manages the network, routing and processing the audio and enabling customized AV control.
"Hollywood on the Roof is sort of like a sports bar Monday through Thursday, and it's a performance venue Friday, Saturday, and sometimes Sunday," offers ClearSound Design Project Manager Justin Segbers. "The old AV system used six digital projectors that mapped video across a big white dome that goes over the top of the stage, and the dome is still there, so we could not hang displays using motors and and hoists. Instead, we installed a standing goalpost truss system with three Chief LCM2X2U FUSION ceiling-mounted 2×2 video wall solutions and a dozen 55-inch LG video walls. We used 12 Visionary Solutions D4100 decoders to feed the LG displays."
The bar faces the stage. On each side of the room, to the left and right of the bar, ClearSound installed three Sharp PN-LE801 80-inch LED TVs, fed by six D4100 decoders. A 70-inch Planar display is mounted on each end of the bar, fed by 2 more D4100 decoders, for a total of 20 Visionary Solutions D4100s in the system.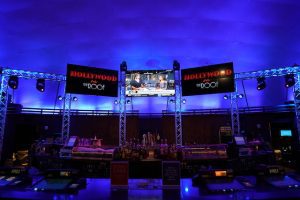 Nine Visionary Solutions E4100 encoders enable a multitude of content options. "Six E4100 encoders are driven by DirecTV satellite boxes," notes Segbers. "Another E4100 encodes video from a media server so the client can drive graphical content when they have performing acts onstage. The eighth E4100 encodes a feed from Hollywood Casino' mother ship. They have one more E4100 that they can move around and hot plug in for a DJ's video feed. The portable encoder also lets them segregate the room for small, lively presentations for professional and business lunches and the like."
Although the satellite feeds currently are not 4K, the casino probably will upgrade to 4K in the future. All of the digital signage and other such content is already 4K, taking advantage of the Visionary Solutions network's ultra-UHD capabilities.
In addition to the E4100 encoders, ClearSound Designs provided one Dante/AES67-enabled Visionary Solutions Duet POE, 4K UHD-over-IP encoder to drive a Dante audio feed. An obvious reason for choosing the Duet was its Dante capabilities but there was a second, less obvious reason.
"We started with a graphical video control interface using Visionary Solution's drag-and-drop software," Segbers recounts. "It has thumbnailing, which is great, and the bartenders were fine with it. However, we had promised the client a custom-branded GUI on a Microsoft Surface tablet to control the video network. We accomplished that with Symetrix SymView, as an export of Symetrix Composer 7.1's control pages, using a plug-in that Symetrix and Visionary Solutions teamed up to create."
The network connections meet at a Cisco SG300 switch that drives power over Ethernet. That includes Dante streams from the live event system's Yamaha QL1 mixer and Rio-series I/O boxes. The Dante audio streams are managed by the Symetrix Prism 4×4 processor, and the Prism's four outputs go to a QSC KLA-series audio system. Hollywood on the Roof's AV network currently is separate from the casino's main Symetrix backbone, which uses older technology. "However, if they come up with a use case where they want the networks connected, I wouldn't be shy about doing it," Segbers avers.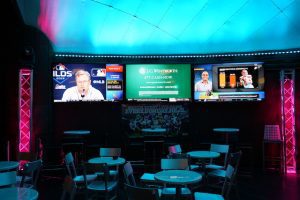 This is the first major install ClearSound Design has done with Visionary Solutions products, and Segbers was delighted and impressed. "The product is great," he enthuses. "It was exactly what I wanted: A high-quality video system where I couldn't notice frame rate loss, with good scalability. And the back-end support was crucial; we're too small a company to have products sit for a week on a tech bench while we figure it out. Visionary Solutions remoted in and taught me how to set up the switches for their products, and they explained how to deal with various issues should they arise. Symetrix' support was great, too, especially when we were creating the control system. In all honesty, this job wouldn't happen the way we wanted it without the support of Visionary Solutions and Symetrix. They worked their tails off."
The new AV system is fully functional now, and it is proving to be a complete success. "The casino people love it," Segbers reports. "They have loved the Visionary Solutions and Symetrix products from the start."